Intruder Shot After Locking Resident in Closet… Where He Keeps His Guns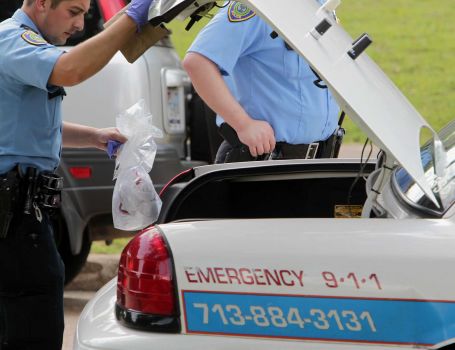 Police of Houston
Three armed intruders broke into a home in Houston and after attacking the resident, locked him in an upstairs closet.
Only the intruders didn't realize that the closet where they locked him was the same closet where he kept his guns, and when he emerged from the closet he shot one of the intruders.
The incident happened on Tuesday afternoon at about 2 o'clock, according to the Houston Chronicle. The resident, who lives in the home with his parents, was upstairs when he heard the trio kick in the front door. After attacking him, they locked him in a closet while they went through the home looking for valuables.
Minutes later, thinking the intruders were gone, the man armed himself with a gun from the closet just in case and returned downstairs. Only the intruders were still in the home and the man came face to face with one. Three shots were exchanged between the two, two shots hitting the intruder in the shoulder and leg. The three quickly left the home, but the two left their wounded accomplice on the sidewalk in front of the house they had just invaded.
Craig Gaddis, who lives near the home, heard the shots and came outside to see what was happening. He saw the wounded man lying on the ground and the other two drive off in an older model black Chevy Tahoe. At the same time another neighbor had come out of her home and called 911.
The suspect was taken to a local hospital and will face charges when he's released. His identity and his condition are not currently known.
Other than being slightly roughed up during the ordeal, the resident was not injured. Houston Police Sgt. Jerri Brandon told a local ABC affiliate that no charges are expected to be filed against him, as he acted in self-defense.
Gaddis said the neighborhood has had a number of break-ins recently. He said that the residents in the area believe that they have all been connected. In reference to the shooting he says, "What happened today is exactly what guns are supposed to do — to protect your home and defend your life and your family."