A law allowing civilians to fight the aggressor has come into force in Ukraine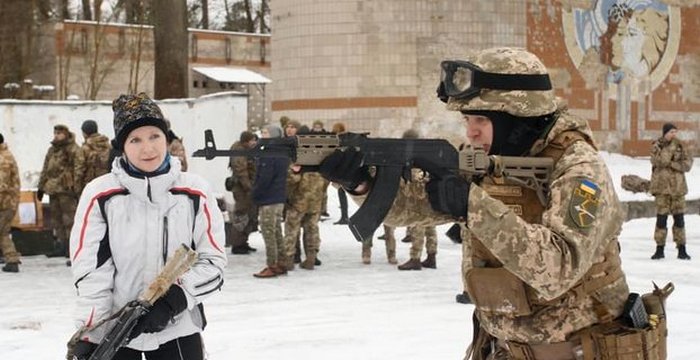 The law "On Ensuring the Participation of Civilians in the Defense of Ukraine", which allows Ukrainians and foreigners to fight Russian aggressors with any weapon, entered into force on March 9.
The law 2114-IX "On Ensuring the Participation of Civilians in the Defense of Ukraine", adopted by the Verkhovna Rada on March 3, entered into force yesterday.
The law was quickly approved by the Ukrainian parliament, "taking into account the desire of civilians to actively participate in national resistance, given the provisions of Article 65.1 of the Constitution of Ukraine, which protects the Motherland, independence and territorial integrity of Ukraine", the text reads.
The text of the law is among the shortest Ukrainian laws, containing only 6 short articles.
The document states that during the martial law, citizens of Ukraine, as well as foreigners and stateless persons legally living in Ukraine (hereinafter, civilians), may participate in repelling and deterring armed aggression by the Russian Federation and/or other states, including obtaining firearms and ammunition in accordance with the procedure and requirements established by the Ministry of Internal Affairs of Ukraine".
Civilians can use weapons in the same way as the military. The law also allows civilians to use their own award weapons, sports weapons (pistols, revolvers, rifles, smoothbore long guns), hunting rifles, smoothbore or combined weapons and ammunition.
Citizens are discharged from criminal liability for the killing of the occupiers during martial law.
The law obliges civilians to hand over their firearms and unused ammunition to the National Police of Ukraine no later than 10 days after the cessation or termination of martial law in Ukraine. Civilians shall be held criminally liable for violating the requirements of this article.
In addition, the law refers to the use of weapons exclusively against the occupiers. In all other cases, the use of weapons for looting, provides for increased liability under the martial law.
Civilians are using weapons obtained in a lawful manner. The military and law enforcement agencies strictly forbid collecting any weapons on the battlefield, regardless of whether they are Russian or Ukrainian.
The law does not apply to active servicemen and persons subject to mobilization. They receive weapons according to another law.
The law was passed too late, because on the first day of Russia's armed aggression, weapons were distributed to civilians who joined the territorial defense from trucks. In Kyiv alone, 18,000 automatic rifles and ammunition were distributed to civilians.
Dear supporters and members of the Ukrainian Gun Owners Association, we need your donations, please follow the instruction on the website and help us fight for our country against the aggressor!