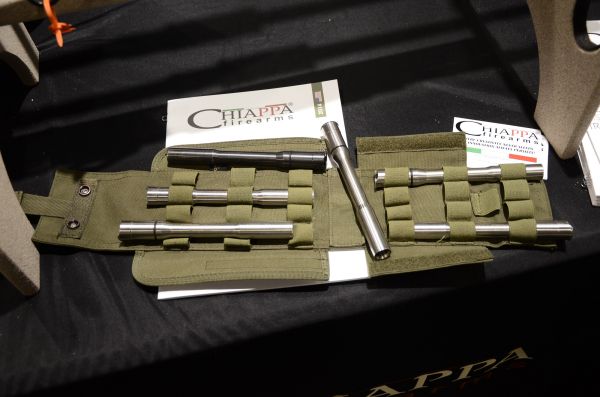 X-Caliber
The X-Caliber caliber conversion system for shotguns is not exactly new to those who closely followed the American market in the past months.
It was originally conceived by Tim Ralston at Gear Up Center, and originally announced early on in 2013.
Despite the enormous interest gathered around the X-Caliber conversion system, the company appeared unable to match the demand for this product all by itself; agreements were thus reached with a steadily growing name of the Italian arms industry − the Armi Chiappa group, also operating on American shores as Chiappa Firearms Ltd. out of Dayton, Ohio – to start mass production and distribution.
The final versions of the X-Caliber kit were first showcaed this January at the 2014 SHOT Show in Las Vegas, and distribution is planned to start later during the year.

X-Caliber
Originally, plans were to make it available only for the X-CALIBER weapon system − a slightly modified variant of their new break-open M6 combination survival gun − but the decision was finally taken to make it available also as a commercially stand-alone conversion kit; after all, the X-Caliber system was conceived to be compatible with any single-barrel, break-open 12-gauge shotgun currently available on the market.
Sold in an olive drab green or flat dark earth canvas carry pouch, the X-Caliber system features eight different 8"-long metal inserts, which will fit into the breech of a 12-gauge break-open shotgun barrel and will be removable just as easily as soon as their use is terminated.
Weighing 0.3 to 0.6 pounds each, the full steel machined X-Caliber inserts will allow any break-open 12-gauge shotgun to chamber and fire up to eight different centerfire pistol rounds: .380 ACP, 9x19mm, .38 Special, .357 Magnum, .40 Smith & Wesson, .44 Magnum, .45 ACP and .45 Long Colt; two inserts also allow the use of additional shotshells − more specifically, 20-gauge and .410-gauge.
The capabilities of this system are unlimited: turning any break-open 12-gauge single-barrel shotgun into a "do-it-all" shooting tool, the X-Caliber will enable owners of said kind of firearm to train longer, cheaper and in different ways, using whatever ammo they have handy or they fire with other shotguns or pistols and revolvers; to diversify their shooting sports and hunting specialties; and to use their guns as a versatile tool to introduce youngsters and otherwise new shooters to the basics of individual marksmanship and safe firearms handling, providing these "newbies" with a different experience in performance, recoil and muzzle climb as their training proceeds and refines.