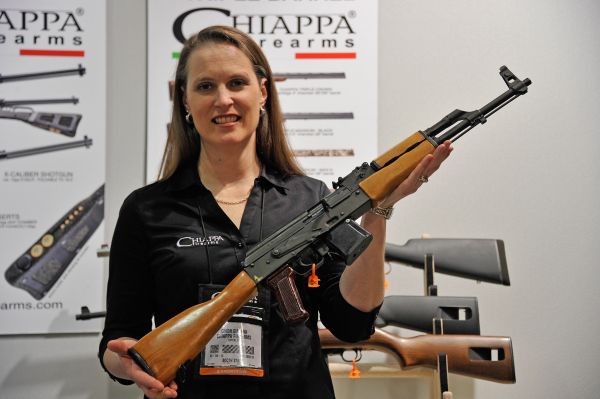 Chiappa: AK-22 - semi-automatic rimfire carbine
The Italian arms industry has a solid history in military-style rimfire trainers; back in the early 1970s and onwards, the ADLER - Armi Jäger group manufactured rimfire clones of the AR-15, AKM, Galil and FA-MAS platforms, which were sold literally by the hundreds of thousands all around Europe and around the globe, with Mitchell Arms being a premier distributor in the United States.
With centerfire military-style rifles gaining increasing acceptance in Italy and in the entire Europe, and encountering less legal obstacles to their import and distribution, this tradition slowly came to wane off, until a few years ago the Armi Chiappa company demonstrated that still was a market for a 100% "Made in Italy" military-style rimfire trainer, with the introduction of the M-Four/.22; it turned out to be a great success, pushing Chiappa to continue on this path – and the next step was basically bound to be a rimfire clone of the AR-15/M16/M4's historical enemy, even more so that the sudden death of Mikhail Timofe'evič Kalashnikov called for a due homage and tribute to be paid to the memory of such a great name in firearms history.
The Armi Chiappa group – through the US-based Chiappa Firearms subsidiary – thus took advantage of the 2014 SHOT Show to launch the AK-22 semi-automatic rimfire carbine. What makes the AK-22 stand above all other AK-based rimfire rifles and carbines already available out there, from ARMSCOR to the earlier Mitchell Arms, is the combination of excellent design and faithful manufacturing specs. As a matter of fact, the AK-22 is meant to be an almost perfect replica of the Soviet gun, identical under all points of view, only exceptions being the straight blowback operation instead of the AK's long-stroke piston and the 17.25" carbon-steel barrel with six right-hand grooves and a 1:16" twist rate.
Metal parts are all manufactured according to the original AKM specs, and Chiappa's rifle will also fit any original AK/AKM furniture, coming available from factory either with all polymer stock, pistol grip and handguard or in a "classic" configuration featuring a bakelite pistol grip and wooden furniture. The detachable single-stack magazine holds ten .22 Long Rifle rounds, but that appears to be "Mil-Spec" too, as the retaining system is the same as the original AKM's, and so are the dimensions. The capabilities of the Chiappa AK-22 in terms of training are basically unlimited, and so is its versatility, as it will be compatible with many components of the original AKM.