KRISS Arms Vector CRB "Enhanced"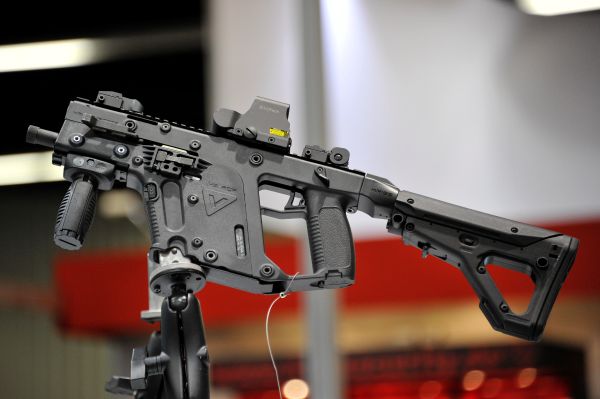 SBR Enhanced
The mainstay product of the Swiss-based KRISS International Arms Group is the "Vector" sub-machinegun, originally developed by the earlier incarnation of the company (Gamma Recherches, S.A.) along with US-based TDI - Transformational Defense Industries, Inc. − which is now the US-based KRISS Arms Group branch.
Formerly known as the "Super-V", the "Vector" is a .45 ACP sub-machinegun feeding through Glock 21 double-stack pistol magazines, extended to over 25 rounds with a proprietary "MagEx" extention system. The peculiar working system of the "Vector" SMG, dubbed the KSVS ("Kriss Super-V System") pivots around a mechanism located in front of the trigger guard and behind the magazine well, which re-vectors recoil energies downwards and forwards to counter muzzle climb and rearwards movement of the gun when it's fired, maintaining it stable with minimum recoil even when it's shot in full-auto at over 1200 rounds per minute.
In the past years, the KRISS Arms Group appeased civilian shooters in the United States and abroad by launching three different commercially available, semi-automatic, legal versions of the "Vector" SMG platform: the long-barrel CRB-SO, fitted with an aluminium barrel shroud that replicates the look (but not the effects!) of a silencer and safeguards aesthetics; the SBR, with the same 14cm. barrel as the original SMG; and the SDP, which also comes with a short barrel but also without a stock.
At the 2014 edition of the IWA & OutdoorClassics expo in Nuremberg (Germany), the KRISS Arms Group introduced the "Enhanced" version to the European civilian markets. The difference between the baseline semi-automatic civilian-legal CRB-SO and SBR carbines and the new "Enhanced" semi-automatic carbine is in the furniture: the "Enhanced" model comes factory-issued with flip-up MagPul MBUS polymer backup sights and with an adapter that mounts a fixed MagPul UBR polymer stock, adjustable in lenght. Said modifications are also available on the KRISS "Vector" SMG sub-machineguns for military and law enforcement customers only.