Handy folding combination gun
Chiappa Firearms' X-Caliber combination gun
After the rimfire "Little Badger" folding carbine, first showcased in 2013, the Italian-based Chiappa Firearms group launched another survival carbine with an extremely interesting, versatile and original model, first showcased in January at the SHOT Show and now introduced on the European market at the 2014 IWA & OutdoorClassics.
Chiappa's X-Caliber is a combination gun, conceived to be completely foldable for easier storage and more comfortable carry; as such, it's a great choice for a wide array of uses, from simple plinking and sports shooting to hunting − maybe as a "backup" hunting piece should the main rifle or shotgun experience a malfunction − and even as a protection weapon for campers, hikers and outdoorsmen out in the wilds in areas where feral animals could pose a threat.
Chiappa Firearms' X-Caliber combination gun is mostly manufactured out of steel, with aluminium and polymer elements, and a polypropylene insert in the buttstock featuring seats for spare rounds and for a small cleaning kit. The outline of the Chiappa X-Caliber combination gun resembles the M6 survival carbine issued to the United States Air Force pilots and crewmen for years after World War II. The wide lever located under the receiver is actuated to open the barrels for loading and will arm the two firing pins at the same time. Each barrel is fired separately by its own trigger.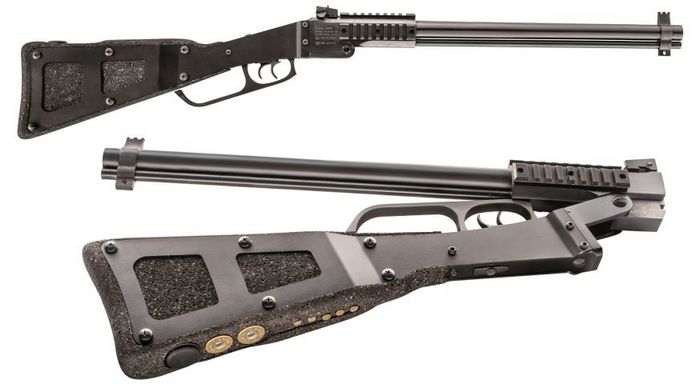 A revolutionary folding combination gun, Chiappa's X-Caliber can be converted to the use of over ten different calibers through the use of barrel inserts
The lower, rifled barrel is chambered for the .22 Long Rifle rimfire round; the upper smoothbore barrel is chambered for 76mm/3" ("Magnum") 12-gauge shotshells, but here comes the twist: Chiappa's X-Caliber combination gun comes issued with eight machined steel inserts fitted in an olive drab green canvas carry pouch − the X-Caliber Conversion system, engineered by Tim Ralston in the United States and manufactured by Chiappa under license. These inserts will fit in the breech of the smoothbore barrel to adapt it to use a wide array of additional or alternative calibers aside from the native 12-gauge.
The inserts can provisionally convert the upper barrel of the X-Caliber combination gun to fire handgun rounds such as 9x19mm "Parabellum", .380 ACP, .38 Special, .357 Magnum, .40 Smith & Wesson, .45 ACP, .44 Magnum and .45 Long Colt; the barrel can also be converted to fire 20-gauge or .410-gauge shotshells. This enhanced level of versatility means that the owners of the Chiappa X-Caliber combination gun will be able to train or hunt with whatever ammunition they have handy at the time: the X-Caliber combination gun from Chiappa and its conversion inserts allow the shooters to have more fun, for less.