CZ P-09 semi-automatic pistol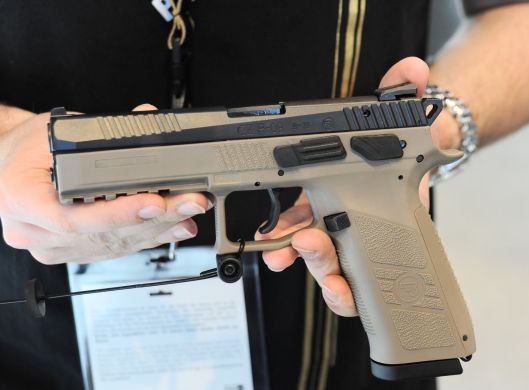 CZ P-09
That's not exactly a new product: the first prototypes were photographed by the end of 2012, and were showcased to public eyes in several trade shows by CZ all throughout the year 2013.
However, an array of factors conjured in delaying the release of this pistol: the company took some more time, spent in research and development, just to be sure of being releasing a flawless platform; and all throughout the year 2013, the manufacturing capacities at CZ were fully tasked to meet the skyrocketing demand for existing products − particularly due to the humongous rise in sales on the U.S. market − so that there was no way to allow a new product to enter production.
Finally, at the 2014 edition of the IWA & OutdoorClassics expo, CZ announced that the full-size P-09 semi-automatic pistol is indeed in full-scale production and shipping worldwide.
A large-frame variant of the P-07 "Duty" platform, the P-09 pistol from Česká Zbrojovka is finally available after one year of wait
The P-09 has been conceived as a large-frame version of the well-established P-07 "Duty" selfloading semi-compact pistol. The CZ P-09 has more specifically been engineered as a true heavy-duty, "Combat"-type sidearm for military and special Police units, as well as a true race machine for IPSC shooters and other sportsmen; it is just as accurate and technically apt to "get the job done".
Built around a strenghtened polymer frame with removable grip backstraps and a Picatinny rail for tactical accessories, the CZ P-09 semi-automatic pistol sports an 11.5cm. barrel and is 20cm. long overall; it will be available in 9mm and .40 Smith / Wesson variants, sporting respectively a 19-rounds or 15-rounds overall capacity. Weighing no more than 860 grams empty, the CZ P-09 is one of the lightest full-size pistols in the world today; other features include an ergonomically-shaped trigger, an ambidextrous safety switch with decocking option, and fixed sights with white quick-alignment inlays.
ENG - CZ P-09 pistol