$1-million reward announced for information on Dorner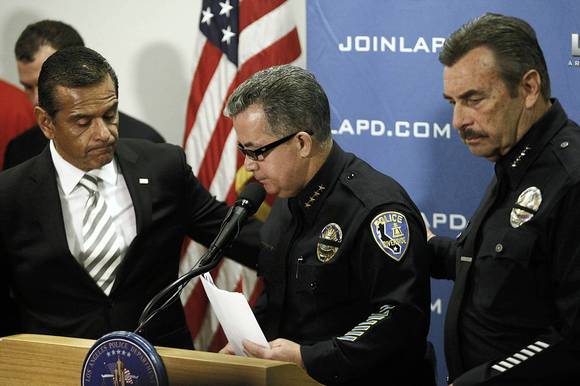 Los Angeles Mayor Antonio Villaraigosa, left, Riverside Police Chief Sergio Diaz and L.A. Police Chief Charlie Beck at a news conference at which they announced a $1-million reward for information leading to the arrest and conviction of suspected killer Christopher Jordan Dorner.
LAPD Chief Charlie Beck said his wife came up with the idea for a massive reward and that it was thought to be the largest ever offered locally. Meanwhile, the manhunt for Dorner continues.
An extensive manhunt continued Sunday as Los Angeles officials announced a $1-million reward for information leading to the arrest and conviction of Christopher Jordan Dorner, the former LAPD officer wanted in the killings of three people.
"We will not tolerate this reign of terror," Mayor Antonio Villaraigosa said Sunday at an afternoon news conference at LAPD headquarters. "Our dedication to catching this killer is steadfast. This search is not a matter of 'if.' It's a matter of 'when.' And I want Christopher Dorner to know that."
Police Chief Charlie Beck said his wife came up with the idea for a massive reward on Saturday and that it was thought to be the largest ever offered locally. Within 24 hours, the $1 million was raised from more than two dozen donors including local governments and police departments, civic organizations, businesses and individuals.
"It was amazingly, amazingly easy," Beck said. "When we reached out to members of this community, they gave immediately."
The reason for such a large reward, the chief said, was "not about capturing a fleeing suspect, but about preventing another crime — likely another murder."
The manhunt for Dorner began last week after the 33-year-old Navy veteran allegedly began his deadly campaign. He allegedly vowed revenge in an angry online manifesto against those he blamed for his dismissal from the Police Department in 2009.
Police say Dorner's rampage began Feb. 3, when he allegedly shot and killed Monica Quan, a Cal State Fullerton assistant basketball coach, and her fiance, Keith Lawrence, whose bodies were found in a car in Irvine.
While on the run, Dorner allegedly killed one Riverside police officer and wounded another, and in a separate shooting grazed the head of a Los Angeles police officer, authorities said.
Riverside officials Sunday identified the slain officer as Michael Crain, 34, who was killed Thursday when he and his partner were ambushed while on routine patrol. His partner is expected to survive.
Crain served two tours in Kuwait as a rifleman in the U.S. Marines, according to a news release. He leaves behind his wife, Regina, a 10-year-old son, Ian, and a 4-year-old daughter, Kaitlyn. Funeral services are scheduled for Wednesday.
"While God is quick to forgive, he does demand justice and there will be a day of reckoning," Riverside Mayor Rusty Bailey said.
Despite numerous rumors and tips, there have been no confirmed sightings of Dorner or evidence pointing to his whereabouts since his pickup was discovered on fire Thursday on a service road near Big Bear Lake in San Bernardino County, officials said.
The truck's axle was damaged and investigators found torched weapons inside the vehicle, law enforcement sources said. Hundreds of sheriff's deputies, police officers and federal agents immediately focused their search on the snowy mountains around the lake, conducting a cabin-by-cabin search.
On Sunday, the San Bernardino County Sheriff's Department said it had scaled back the search because of the number of vacation homes and other structures that had cleared inspection. After peaking at more than 200 SWAT officers and federal agents, the search was pared back Sunday to about 25 officers on the ground and a helicopter for aerial support, officials said.
There had been "no reported sightings" and no new evidence linked to the fugitive ex-cop, who is 6 feet tall and weighs 270 pounds, officials said. A tip that Dorner might have been seen in San Bernardino early Sunday forced the evacuation of an apartment complex but proved to be a false alarm.
Authorities have linked Dorner's alleged rampage to his firing four years ago.
Quan, the woman slain in Irvine, was the daughter of Randal K. Quan, a retired LAPD captain whom Dorner accused in a lengthy online manifesto of not representing him fairly at a hearing on his firing. In what police said was his posting to Facebook, Dorner allegedly threatened the retired captain and others he blamed.
"Suppressing the truth will lead to deadly consequences for you and your family," according to the manifesto.
More that 50 LAPD families remained under police guard Sunday.
Dorner was booted from the LAPD in 2009 after a police disciplinary board concluded he had made false statements against his training officer, Teresa Evans. In August 2007, Dorner accused Evans of kicking a mentally ill man during an arrest in San Pedro.
The internal affairs investigation concluded Evans had not kicked the man and that Dorner had lied.
Nevertheless, Beck said Saturday he would reopen the investigation of the incident, "not to appease a murderer" but to assure the public that his department is fair and transparent and to protect its "increasingly positive relationship with the community" in recent years.
On Sunday, Beck joined Villaraigosa and other officials at the news conference to announce the reward and update the efforts to find Dorner.
"This is an act of domestic terrorism," Beck said of those allegedly killed or targeted by Dorner. "He has targeted those we entrust to protect the public."
Afterward, Beck said his department has been gripped in recent days by "incredible anxiety," which has taken a toll on other operations.
"While this continues, our ability to do other things — to respond to 911, to do criminal investigations, to do community relations events — is crippled," he said.