Winchester Issues Recall for 5.56 Ammo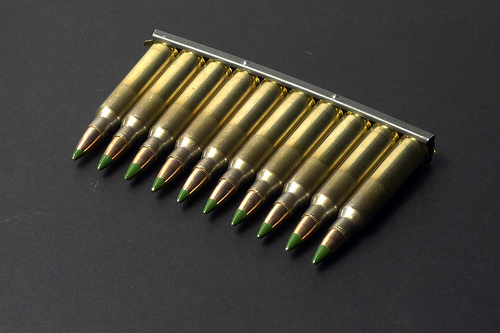 Winchester 5.56mm M855 62 Grain Pene
Amid a national ammo shortage this is probably the last thing you want to hear. Winchester has issued a recall for some of their 5.56mm centerfire rifle ammo Feb. 4.
The company stated in the recall notice that after an extensive evaluation they found that a single lot of Winchester 5.56mm M855 62 Grain Pene (penetrator) ammunition may contain incorrect propellant, an issue that if used may cause damage to the firearm or render it inoperable, or may cause injury to the shooter or bystanders.
The 5.56mm M855 is an economical brand that features a steel core and a green penetrating tip. Online a box typically costs $10.
The company asks that you do not use the 5.56 ammo from boxes marked with the symbol number "ZGQ3308″ and the lot number "WCC10M106-004″. Both identifying numbers are stamped on the outside of the 900-round shipping container, and on the outside of the 30-round box.
Winchester asks that if you do have a box of defective ammo to immediately discontinue using it and contact the company to exchange it at no cost to the consumer. You can contact Winchester at 866-423-5224 and they'll arrange for free UPS pick-up. As soon as the company receives the package, a replacement box will be shipped out.
The company can also be reached via snail mail. If you have questions relating to this issue write to Winchester at 600 Powder Mill Road, East Alton, IL 62024 with "Attn: 5.56mm M855 Recall" at the top, or visit the company's website at www.winchester.com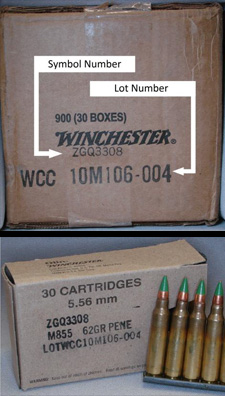 Boxes marked with the symbol number "ZGQ3308″ and the lot number "WCC10M106-004″