Smith & Wesson 625JM: 'A jewel of a revolver'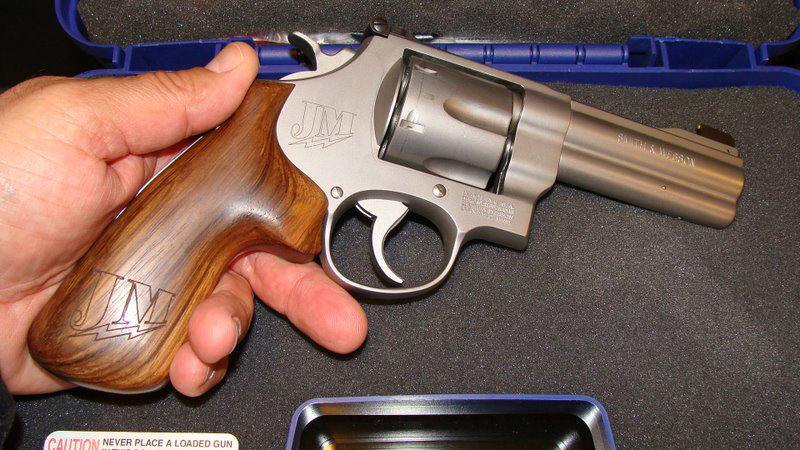 Smith & Wesson 625JM
During WWI the U.S. did not have enough Colt 1911 pistols to go around, so Smith & Wesson and Colt retooled their revolver production to fill the .45 ACP gap in the military's arsenal. In turn both companies produced M1917 revolvers.
It was a viable solution at the time and while it may not be in high demand today — a revolver to fire semi-auto ammo — Smith & Wesson continues to make .45 ACP revolvers for their loyal fans.
Currently the company offers a handful of different models, but the one that has quickly become one of my favorites is the Smith & Wesson 625JM.
Designed with the assistance of Jerry Miculek, world record holding speed shooter, the 625JM carries his distinctive smooth wood grips and wide blade trigger, and has a 4-inch barrel and a six shot cylinder. It handles outstandingly with the unique grips, and its massive size makes it a soft shooter.
Smith & Wesson 625JM

The quality of the Smith & Wesson 625JM is outstanding. It shows the years Smith & Wesson has had to perfect revolver making. It's built on Smith & Wesson's "N" frame, a large frame design that adds durability and longevity. The revolver weighs in at 40 ounces unloaded, has an overall length of 9.38 inches, and a 0.08mm feeler gauge barely fits between the cylinder and the forcing cone.
The stainless steel has a nice silky satin bead blasted finish. On the barrel it sports a gold bead front sight. And it has Jerry's "Bang" grips, his initials and a lightning bolt on the side of both the frame and grips.
The weapon is tight and crisp. In double action there is no hump in the take-up and breaks at around 10 pounds. In single action it breaks crisp and light at around 4 pounds. I can shoot this revolver in double action well, but in single action it sings. However, with some action work the double action will come to life. The hammer is checkered and I did find it sharp out of the box. After a 600-grit sanding it felt better and it's very positive when cocking.
Though the trigger is wide, it feels perfect for this revolver. It has vertical serrations that really grab onto your finger. In double action your finger does not slide while you move through.
While the 625JM is built for ease-of-use, it's not ideal for concealed carry (though it could make a good home defense revolver if you carry a flashlight). It fills a target, competition or recreational role because the weight makes it easy to get a quick sight picture and soaks up a bit of the recoil too, so shooting it is a breeze.
Performance
At the range, it's easy enough for most to shoot 2-inch groups standing at 10 yards. The gun is very accurate and for plate shooting it's quick to get on target and to transition. And it eats all ammo types — FMJ or hollow points — the same.
The only downside to it, being made of stainless steel as opposed to a non-blued metal, is that when you shoot it — it shows!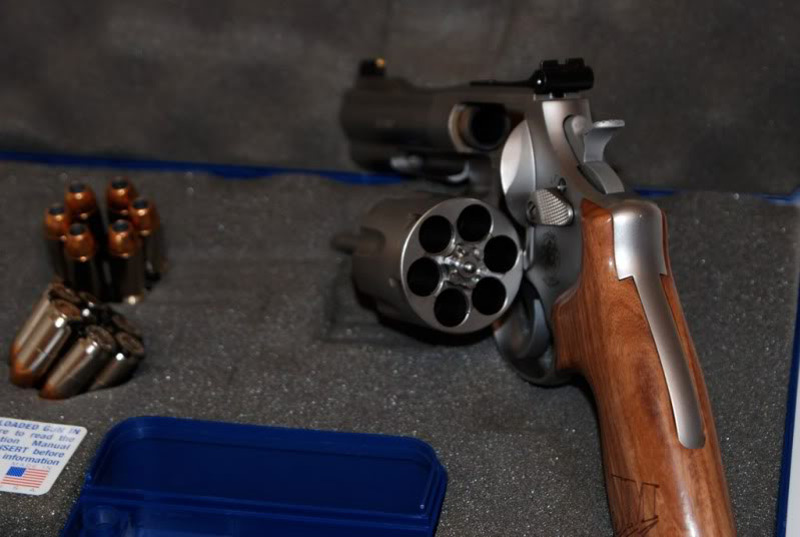 Smith & Wesson 625JM
Reloading with the moon clips is quick and easy. The plunger positively ejects the old clip with ease. I had a few, when loading, that you need to wiggle a bit to get them to drop. I can see having this revolver's cylinder chamfered to ease reloading — I'm sure all of Jerry's are chamfered!
The grips look unique. They are basically a long flattened pear shape and smooth. I thought they would be too small or the revolver would be apt to slip, but I did not experience that at all. Jerry Miculek likes the grips because for speed shooting he can easily slide his hand over the revolver and quickly get his finger on the trigger. But my concern is getting a good grip on the gun, and these grips are better than I expected. They never really slipped or shifted in my hands when I shot. Also, I have had a number of people — each with different hand sizes — try it out and none felt like the "N" frame is too big. I think the grips had a lot to do with this.
Accessorizing

Having owned the 625JM for a little while now, I have found a number of items that work well with it. Moon clips are easy to come by from Wilson Combat (I suggest getting the nickel ones to match the coloration of the gun). Get the moon clip stripper from Brownells and your fingers will be happy you did. There is even a remooner if putting the rounds into the clips is trouble for you. Lastly, there are many quality holsters out there for "N" frame revolvers, but why you would want to holster it is beyond me.
If moon clips aren't your thing, pick up some 45 Auto Rim ammo. It's expensive ammo to buy, but I couldn't find any locally, so I have no experience with it in this revolver.
And you can easily change out Jerry's grips if you want. I am still on the fence about them. They are slick and small but somehow I haven't hated them as much as I expected. I do however find myself not to be a fan of the gold bead front sight. Some old school stuff is great for me; give me a fiber optic red sight any day for a revolver.
Final thoughts

This revolver is a jewel. It is accurate and a pleasure to shoot. Don't be intimidated by the size of the "N" frame or the unique grips. I especially like that it's in .45ACP. This allows you to streamline your ammo calibers if you own a 1911.
Smith & Wesson 625JM