Colorado Town Mulls Mandatory Sporting Rifle Ownership as Sheriffs Dig in Heels against Recently-Passed Gun Control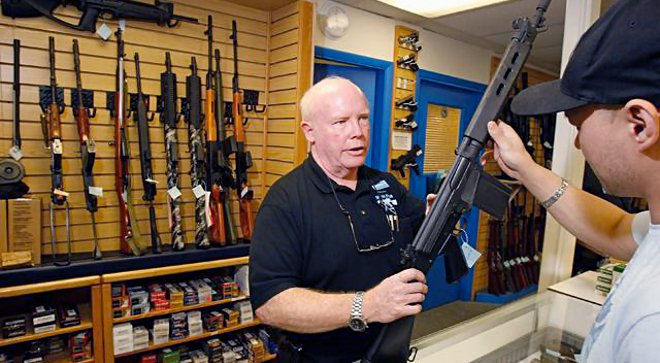 Colorado Town Mulls Mandatory Sporting Rifle Ownership

The Craig, Colorado city council is currently debating a bill that would require every household to own a "modern sporting rifle," specifically any semi-automatic centerfire rifle that accepts detachable magazines. 
The proposal was drafted by Craig resident Craig Rummel, and includes exemptions for people who are mentally or physically unable to operate a firearm, people who aren't legally allowed to own a firearm and people who are opposed to firearms ownership on religious or personal grounds.
"Coal, the power plant and hunting pretty well sums up what we offer here in Craig, America," Rummel said to the Craig Daily Press. "For too long, the state legislature has been hammering us, and they're destroying our economy. Our voices are not being heard, but if we pass an ordinance, it will go viral, and then they'll be forced to listen to us."
"We have tried the traditional routes, and we have good representation at the state in Sen. Baumgardner and Rep. Rankin, but the Western Slope doesn't have the votes in Denver," Rummel continued. "We need to think outside of the box and let the rest of the country know we are not in lockstep with Denver."
This is in direct protest against the recent hotly-contested gun control package that was pushed through the Colorado legislature. The new laws establish magazine capacity limits and criminalize private gun sales, among other provisions.
These new laws have been criticized as unenforceable with many people questioning how they will affect crime, include a majority of the state's sheriffs.
To-date, 43 of the state's 62 sheriffs have joined together in a lawsuit against the state and these laws. Elbert County Sheriff Shayne Heap and Douglas County Sheriff David Weaver are leading the sheriffs in their fight to overturn several of the new laws.
"Extreme Democratic legislators have unilaterally decided that making it harder for you to defend yourself will somehow make you safer, or at least make them feel better," said Heap. "Extreme Democratic legislators continue to disregard the will of the people in search of their own personal and political agendas."
"I don't think the laws will make people safer," wrote Weaver. "Tighter gun laws will not prevent criminals from getting guns. The laws will only make it harder for citizens to defend themselves."
Colorado faces large economic losses as companies like Magpul, HiViz and the Outdoor Channel leave the state in protest of the state's new gun laws. Additionally, hunters from around the country will be boycotting the state in protest.
None other than attorney, author and analyst David Kopel will be handling the sheriff's lawsuit.
"They've outlawed an accessory that is essential to the use of a firearm," Kopel said. "We are challenging the background-check bill for temporary and innocent transfers. With the new law, if your friend from out of town comes to visit and you loan him your gun to hunt, you're a criminal. That is overreaching and unreasonable."
Kopel added that these laws "violate the highest law in the country, the Constitution of the United States of America."