Family fights back when 3 gunmen storm their home; one intruder shot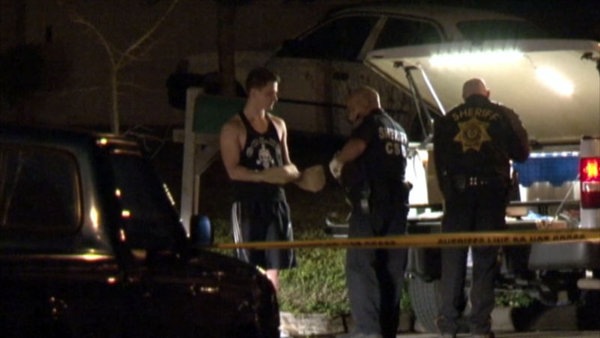 Shooter and police
HOUSTON –A 21-year-old man sprang into action to protect his family Thursday night when three suspects barged into their northwest Harris County home.
The young man was home with his mother and father in the 3900 block of Brook Garden when the armed men forced their way into the house around 8 p.m., according to Harris County Sheriff's deputies.
The family was in the middle of baking a cake, when there was a knock at the door.
"I see a young boy and I think it is a friend of my son so I open it a little bit," the father explained. "These guys push and out comes two more, they push me on the ground."
After the father was down, the suspects went after the mother. That is when the son ran and got his dad's gun. He opened fire and hit one of the suspects, who died in the back bedroom. The other two suspects fled the scene.
"I just hear a couple of times; boom, boom, boom. One young life is lost," the dad said. Deputies responding to the call spotted a vehicle carrying two men who matched the suspects' descriptions and pulled it over. The men were taken into custody for questioning. Deputies said they do not know why the suspects targeted this home.
"At this point, we don't know what the motive is behind this home invasion, but they did force entry into the residence," said Sgt. Greg Pinkins, Harris County Sheriff's Office. Neighbors said the son was just doing what he had to do.
"People can't go breaking into people's homes and not expect some sort of consequence," said Harry Moulder.
No charges were expected to be filed against the homeowner's son.