SVD Dragunov: 50th Anniversary
Royal Moroccan Army Sgt. Gantumur, crouching, teaches U.S. Marine Corps Lance Cpl. Edgar how to fire the SVD sniper rifle at the Five Hills Training Center near Ulaanbaatar, Mongolia, Aug. 1, 2007, during weapons familiarization training as part of Exercise Khaan Quest 2007. (U.S. Marine Corps photo by Cpl. Dustin T. Schalue/Released)
This year represents the 50th anniversary of the SVD Dragunov rifle. Introduced into the service of the Soviet Union army in 1963, this semi-automatic sniper rifle has proved itself a capable performer in the field.
Since 1964, the Dragunov has been made by Izhmash, a Russian arms and vehicle manufacturer. To commemorate the 50th anniversary, Izhmash announced the modernized SVD will be completed later this year.
The modernized Dragunov will feature:
new barrel 
Picatinny rail for optics
folding bi-pod
adjustable buttstock
improved accuracy
The Dragunov has been used by at least 30 different countries around the world. While the United States has never officially used the SVD Dragunov, it has helped equip and train friendly countries with the rifle. It was just one of these weapons that Staff Sergeant Clinton L. Romesha used on October 3, 2009 to help repel some 400 enemy fighters in Nuristan Province, Afghanistan.
When SSG Romesha's outpost came under attack, he coordinated the defense of the outpost and personally led operations to kill enemy fighters, resupply troops, rescue fellow soldiers and recover fallen heroes. During that battle, he picked up a Dragunov rifle that belonged to the Afghan National Army. With that Dragunov, he neutralized a machine gun nest and sniper position. Upon discovering three enemy fighters penetrated their defensive positions, he calmly dispatched them with the same rifle. SSG Romesha was awarded the Medal of Honor for his actions that day, and I encourage you to read the full account here.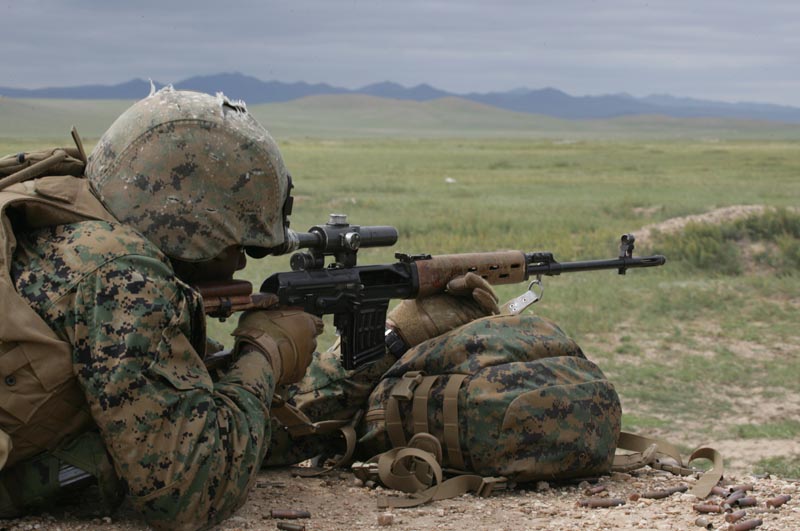 U.S. Marines fire a Dragunov SVD sniper rifle provided by the Mongolian armed forces as part of Khaan Quest 2009 at the Five Hills Training Area in Mongolia Aug. 14, 2009. The Marines and Mongolians are exchanging knowledge about their respective weapon systems. (U.S. Marine Corps photo by Lance Cpl. Nathan McCord/Released)
Dragunovs use a piston-system, semi-automatic rifle chambered for the 7.62x54r cartridge. The 7.62x54r is a rimmed cartridge developed in the 1800′s for the Mosin-Nagant rifle, and is similar to the .30-06.
Specialty loads in the caliber have been developed to wring the best performance out of the rounds for this rifle. The 7N1 round uses a steel core, steel jacketed bullet and was issued through 1999. At that time, it was officially supplanted by the 7N14 round. The 7N14 uses a hardened steel core, allowing for better penetration through barriers and light armor.
There have been variants of the Dragunov made, both for the military and civilian purchase. The SVD Dragunov has enjoyed a certain amount of mystique with US buyers due to its styling and relative rareness in the country. While the Dragunov is easier to obtain today that during the Cold War, they are no where near as common as the AK-47 and AK-74 rifles.