Massive Manhunt On For Ex-LAPD Cop Accused of Killing 3
LAPD
Los Angeles, CA - Thousands of police officers throughout Southern California and Nevada hunted Thursday for a former Los Angeles officer who was angry over his firing and began a deadly shooting rampage that he warned in an online posting would target those on the force who wronged him, authorities said.
Authorities issued a statewide "officer safety warning" and police were sent to protect people named in the posting that was believed to be written by the fired officer, Christopher Dorner, who has military training. Among those mentioned were members of the Los Angeles Police Department.
"I will bring unconventional and asymmetrical warfare to those in LAPD uniform whether on or off duty," said the manifesto. Dorner has available multiple weapons including an assault rifle, said police Chief Charlie Beck. More than 40 protection details were assigned to possible targets of Dorner. The manhunt was possibly the largest in department history, Beck said.
The search for Dorner, who was fired from the LAPD in 2008 for making false statements, began after he was linked to a weekend killing in which one of the victims was the daughter of a former police captain who had represented him during the disciplinary hearing. Authorities believe Dorner opened fire early Thursday on police in cities east of Los Angeles, killing an officer and wounding another.
Police said Dorner, 33, implicated himself in the killings with the multi-page "manifesto."
In a Facebook post, Dorner said he knew he would be vilified by the LAPD and the news media, but that "unfortunately, this is a necessary evil that I do not enjoy but must partake and complete for substantial change to occur within the LAPD and reclaim my name."
As police searched for him, the packed Los Angeles area was on edge. The nearly 10,000-member LAPD dispatched many of its officers to protect potential targets. The department also pulled officers from motorcycle duty, fearing they would make for easy targets. Nevada authorities also looked for Dorner because he owns a house nine miles from the Las Vegas Strip, according to authorities and court records.
Authorities said the U.S. Navy reservist may be driving a blue 2005 Nissan Titan pickup truck. Los Angeles officers guarding a "target" named in the posting shot and wounded multiple people in Torrance who were in a pickup but were not involved, authorities said. The extent of their injuries was not released. It's not clear if the target is a person or a location. News media crews in Torrance also reports that there was another police shooting nearby involving another pickup truck, but the driver wasn't hurt.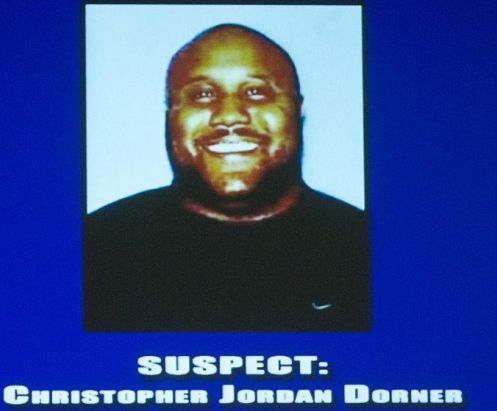 Christopher Dorner
"We're asking our officers to be extraordinarily cautious just as we're asking the public to be extraordinarily cautious with this guy. He's already demonstrated he has a propensity for shooting innocent people," said LAPD Cmdr. Andrew Smith. Dorner is wanted in the killings of Monica Quan and her fiance, Keith Lawrence. They were found shot in their car at a parking structure at their condominium on Sunday night in Irvine, authorities said.
Quan, 28, was an assistant women's basketball coach at Cal State Fullerton. Lawrence, 27, was a public safety officer at the University of Southern California. There was disbelief at three college campuses, Fullerton, USC, and Concordia University, where the two met when they were both students and basketball players.
Dorner was with the department from 2005 until 2008, when he was fired for making false statements. Quan's father, a former LAPD captain who became a lawyer in retirement, represented Dorner in front of the Board of Rights, a tribunal that ruled against Dorner at the time of his dismissal, LAPD Capt. William Hayes told the news media Wednesday night. Randal Quan retired in 2002. He later served as chief of police at Cal Poly Pomona before he started practicing law.
According to documents from a court of appeals hearing in October 2011, Dorner was fired from the LAPD after he made a complaint against his field training officer, Sgt. Teresa Evans. Dorner said that in the course of an arrest, Evans kicked suspect Christopher Gettler, a schizophrenic with severe dementia.
Richard Gettler, the schizophrenic man's father, gave testimony that supported Dorner's claim. After his son was returned on July 28, 2007, Richard Gettler asked "if he had been in a fight because his face was puffy" and his son responded that he was kicked twice in the chest by a police officer. Early Thursday, the first shooting occurred in Corona and involved two LAPD officers working a security detail, LAPD Sgt. Alex Baez. One officer was grazed.
Later, two officers on routine patrol in neighboring Riverside were ambushed at a stop light, said Riverside Lt. Guy Toussaint. One died and the other was in surgery. The officers shot were not actively looking for Dorner, Toussaint said. Dorner's LAPD badge and an ID were found near San Diego's airport and were turned in to police at early Thursday, San Diego police Sgt. Ray Battrick said.
The California Highway Patrol issued a "Blue Alert" to law enforcement:
*THE SUSPECT IS CONSIDERED ARMED AND EXTREMELY DANGEROUS*
A BLUE ALERT HAS BEEN ACTIVATED IN THE FOLLOWING COUNTIES: KERN, SANTA BARBARA, VENTURA, LOS ANGELES, SAN BERNARDINO, ORANGE, RIVERSIDE, SAN DIEGO, AND IMPERIAL.
ON FEBRUARY 7, 2013, AT APPROXIMATELY 0122 HOURS, THE SUSPECT WAS INVOLVED IN MULTIPLE SHOOTINGS WITH MULTIPLE AGENCIES IN THE RIVERSIDE CHP AREA.
THE SUSPECT IS CHRISTOPHER JORDAN DORNER, A 33 YEAR OLD, BLACK MALE, 6 FEET TALL, 270 POUNDS, WITH BLACK HAIR, BROWN EYES, WITH AN UNKNOWN CLOTHING DESCRIPTION.
THE SUSPECT WAS LAST SEEN DRIVING A 2005 BLUE OR GRAY NISSAN TITAN, WITH A CA LICENSE PLATE OF 8D83987 or 7X09131 - THE SUSPECT MAY BE SWTICHING BETWEEN THE TWO LICENSE PLATES.
STATEMENT by Chief Dave Maggard
Good Evening: My name is Dave Maggard, Police Chief of the City of Irvine. As you know, on Sunday, February 3rd, two victims were shot and killed while sitting in their vehicle at 2100 Scholarship in Irvine. On behalf of our community, I send my condolences to the families of the victims, Keith Lawrence and Monica Quan. We have identified a suspect in the slaying of those two young people.
I can provide some information to you now, but in the effort to maintain the integrity of the investigation, I cannot answer any questions tonight. Irvine detectives have been working day and night since the tragedy; today, we have identified Christopher Jordan Dorner as the suspect in this double homicide. Dorner is a former LAPD officer and a reservist for the U.S. Navy. Of particular interest at this point in the investigation is a multi-page manifesto in which the suspect has implicated himself in the slayings. We are not making the manifesto publically available at this point as the investigation is ongoing.
Dorner's whereabouts are currently unknown to law enforcement and we are asking for the public's help in finding him. We believe Dorner is armed and dangerous. We are getting support from many law enforcement partners, including LAPD, FBI and U.S. Marshals. Dorner's last known address is 4931 Sharon Drive in La Palma. He is described as 6 feet tall, 270 pounds, with black hair and brown eyes.
We are looking for a vehicle we believe is being driven by him: a blue 2005 Nissan Titan pickup with California license plate 7X03191. If you see Dorner, call 9-1-1 immediately. If you have information to his whereabouts, we ask you to call our tip line: (949) 724-7192. To email: ipdcrimetips@cityofirvine.org. Thank you for being here; we will update you as further information is available.
MORE INFORMATION:
Autopsies on the bodies of Keith Lawrence and his 28-year-old fiance, Monica Quan, were completed Tuesday and today, respectively, said Jim Amormino of the Orange County Sheriff's Department. "The coroner determined that both died of multiple gunshot wounds," Amormino said. "No further information will be released at this time." Police who received a call at 9:10 p.m. Sunday about a person slumped over in a parked car at 2100 Scholarship found the recently engaged couple dead in Lawrence's Kia, which was parked at the top of the five-story structure for the building where they lived.
Irvine police Lt. Julia Engen said there's no evidence they were being robbed, and noted that the high-density residential community is highly secure with key card access only. Irvine had two slayings in both 2011 and 2012, according to Engen, who said overall violent crime is at "historic lows" in the city. Quan was an assistant coach for the Cal State Fullerton women's basketball team after holding a similar position at California Lutheran University in Thousand Oaks. The couple met while at Concordia University in Irvine, where they both played basketball.
Lawrence was seeking a career in law enforcement, which made him a good match for Quan, whose father was an officer with the Los Angeles Police Department, friends said. Lawrence, who graduated from the Ventura County Sheriff's Academy, was working as a patrol officer at USC's Department of Public Safety. He joined the department in August, said Carl Marziali, USC's assistant vice president of media relations.
Quan was in her second season working under Coach Marcia Foster. A star athlete at Walnut High School, Quan played at Cal State Long Beach from 2003-05 before transferring to Concordia University, where she graduated in 2007 with a degree in exercise and sports science. In 2009, she earned a master's degree.