Smith & Wesson Performance Center 686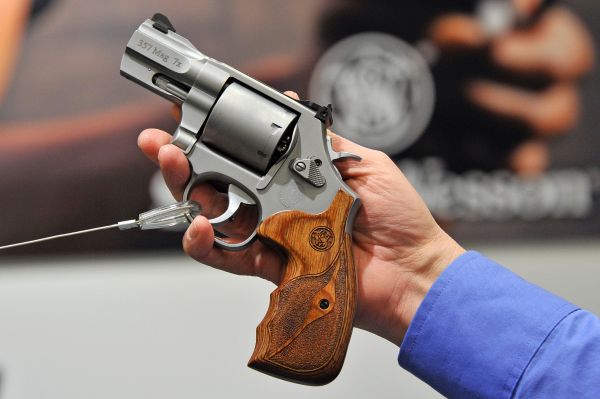 Smith & Wesson Performance Center 686
The .357 Magnum caliber was born at Smith & Wesson's in the 1930s, and its fate has been intertwined to the Smith & Wesson firearms ever since.
Despite having been used by so many legendary revolvers released during the years by other competitors (eg. the Colt Python), no other revolver has been more quintessential as a .357 Magnum than the Smith & Wesson Model 686.
First showcased in 1980, the Model 686 remains in production to date, and has been built in a plethora of variants, and by the hundreds of thousands. Countless sports shooters used the Smith & Wesson 686 to win important awards in shooting competitions, and just as many law-abiding citizens relied on it when their lives, well-being and properties were at stack. Similarly, it was − and sometimes still is − used by Police, military, and private security personnel all around the world.
Model 686 Performance Center double-action revolver, offering a 2.5-inch barrel and seven .357 Magnum rounds for ultimate defensive applications
Now, at the 2014 edition of the IWA & OutdoorClassics expo in Nuremberg (Germany), Smith & Wesson announces a new enhanced version of the Model 686 7-shot .357 Magnum revolver. The new 686 is a classic, time-tested revolver with popular self-defense features made possible by the master gunsmiths in the famed Smith & Wesson Performance Center.
Manufactured as a high-end personal protection revolver, the Performance Center Model 686 is a 7-shot .357 Magnum revolver with a 2-1/2 inch barrel that features an unfluted stainless steel cylinder. The revolver has a stainless steel frame, custom wood grips, adjustable rear sights and a red ramp front sight. With an overall length of 7.5 inches and an unloaded weight of 34.6 ounces this 7-shot revolver is easily concealed until needed. The Performance Center 686 also features a glass bead finish, chrome trigger with a stop, chrome teardrop hammer, a precision crowned barrel, cylinder cut for moonclips, and a Performance Center hand-tuned action.