Shocking moment 'road rage' driver is fatally injured by Chinese police who attacked him with wooden poles for 'resisting arrest'
Police were called as the unidentified motorist reportedly stabbed another driver after a minor traffic altercation. Officers allegedly attacked him with poles after he locked himself inside his car
A 'road rage' driver has been fatally injured after he was attacked by Chinese police with poles for resisting arrest, it has been claimed.
Police were called as the unidentified motorist reportedly stabbed another driver after a minor traffic altercation. It has been claimed he also stabbed two passengers who ran to the driver's aid during the incident, in China.
Two of the victims have since died and one of them is fighting for his life. A motorist who witnessed what had happened called police. When they arrived the knife wielding man locked himself in his car and refused to come out.
Then witnesses - who took mobile phone footage - have claimed Chinese officers smashed through the windows and used wooden poles to attack the man.
He was then removed from the car, pinned down and handcuffed before medics were allowed to check him. But it has been claimed that he had already died from his injuries.
An enquiry has been ordered into the police action.
One officer told local media: 'He broke the law and resisted arrest, it is unlikely that much more can be said other than that. 'We are mainly going to be concerned in identifying him and finding out what prompted him to attack the other drivers rather than investigating - the police were only doing their job.'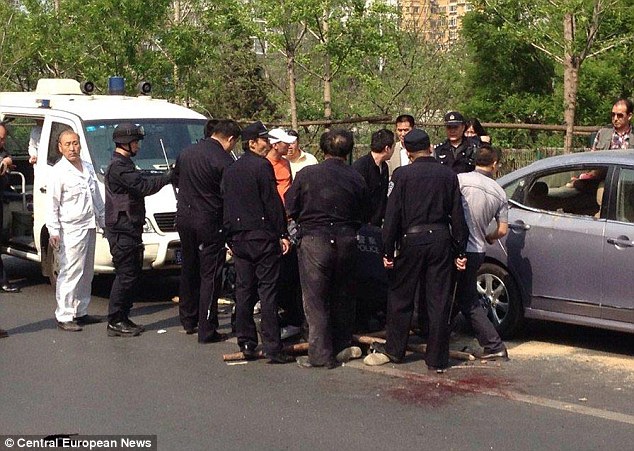 A motorist who witnessed what had happened called police. When they arrived the knife wielding man locked himself in his car and refused to come out